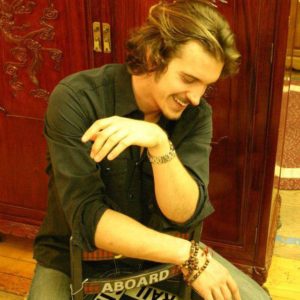 Tyler is a Father, entrepreneur, and environmental activist. He began his first company at 19 in the legal industry and quickly began setting records still unbroken. By 23 years old he had achieved what many may consider the American Dream having both financial and time freedom. However, he found this to be incomplete as he realized there was much broken and he felt void of real purpose. He gave away his company and all worldly things and traveled alone for 3 years on a walking pilgrimage of self discovery with a staff, pack, and faith. After nearly 20k miles of travel and uncountable stories and adventures he decided to settle down and rejoin society in Asheville NC.
Tyler started a very small company with $500 that he scraped together on the road with the ambitious goal of turning unwanted waste into a fun and thrifty shopping experience. He turned a pickup truck and 10×10 storage unit into a multi million dollar a year business now with three divisions. The Regeneration Station, Junk Recyclers, and Garage TRS are now staples in Asheville keeping things out of landfills and offering customers the most entertaining and thrifty shopping experience in WNC.
In addition to his businesses he is a full time philanthropist and activist being on the ground in Standing Rock, Sabal Trail, and many many other social and environmental causes.
Enjoy this one-hour Living Well where Tyler shares how we, the People, can make a big difference in our community when it comes to conserving energy and protecting our environment.
Living Well with Tyler Garrison on AshevilleFM, March 27, 2016