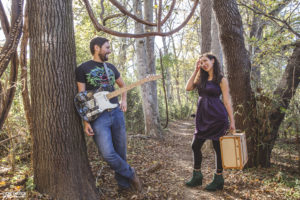 The Moon and You is a folk/soul band based in Asheville, NC that tours the Eastern US and Western Europe. At its core are married songwriters and multi-instrumentalists Ryan Furstenberg (banjo, guitar) and Melissa Hyman (cello). After honing their sound on the road for a few years, they released debut album A White Light That Sings in June 2016 to critical acclaim. They just celebrated their second full-length release, Endless Maria on March 19; a live string quartet and rock rhythm section brought the album to life onstage.
At once excitingly inventive and cozily familiar, The Moon & You continues to craft a compelling, acoustic Americana sound. The duo's ever-evolving output encompasses a wide range of American roots music. Flavored by contributions from a rotating cast of super-talented friends, their onstage synergy and warmth invite audiences in, offering a peek into a strange and joyful universe of their own.
What a special treat to have Ryan and Melissa share their life and music on Living Well!
Living Well with Ryan Furstenberg & Melissa Hyman on AshevilleFM, May 15, 2017