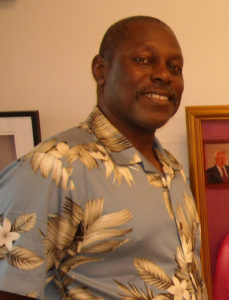 Joseph Anthony Pearson was born in South Mississippi  in 1946.
He graduated Jackson State University (college) in 1969 with the B.S. degree in art Education. After a year of teaching in the Mississippi public school system Ihe left Mississippi for new York city to attend the Art Students league of NY. He was awarded a full scholarship his second year there. He trained there for 5 years and afterward joined the army as an illustrator.  After 3 years in the Army He went back to Mississippi and began work at Stennis Space Center as an Illustrator.  While at Stennis he got married and had a daughter and now has 11 year old granddaughter.
Joseph's been a practicing professional artist for more than 30 years.  His awards include two Pollock-Krasner grants as well a grant from the Artist Fellowship of NY and many others. Pearson's work has been widely shown in numerous national and international competitions and museum shows throughout the country. As a self-proclaimed social realist, his passion for people and the human condition is strongly evidenced in his portraits and figure paintings.
Joseph and his second wife moved to Asheville, (her birth place) in June 2015.
Enjoy this one-hour Living Well as Joseph shares the inspiration for his art and his mission to use art as a tool for meaningful conversation between us!
Living Well with Joseph Anthony Pearson on AshevilleFM, November 13, 2017