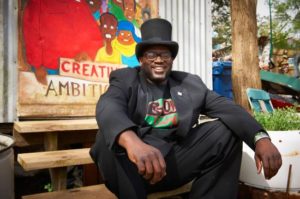 DeWayne is the founder and your tour guide for Hood Huggers International, that takes people on a journey through historic African American landmarks and neighborhoods of Asheville, and also shines a light on the work being done by local African American community groups and businesses. The Hood Huggers International team encompasses elders, grassroots leaders, and youth from the neighborhoods we work with, as well as volunteers from the community, local universities, and businesses.
Along with other local artists, DeWayne created the Burton Street Peace Gardens, a sanctuary for positive action, designed to create neighborhood food security, community cohesion, and a vibrant, sustainable local economy.
Enjoy this one-hour podcast where DeWayne shares the reasons for the work he is doing with a particular emphasis on empowering our communities and youth to create a sustainable future.   We were even treated to having a few youth from "My Community Matters" join us who were taking Hood tour with DeWayne.
Living Well with DeWayne Barton on AshevilleFM, July 24, 2017