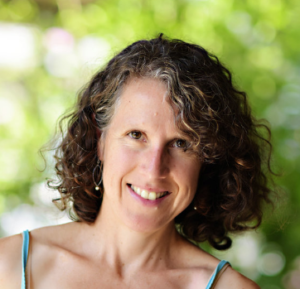 Cathy Cleary and her husband, Reid Chapman, moved to West Asheville NC in 1995 and Cathy opened the West End Bakery Café in 2000, devoting her heart and soul to co-owning and operating this iconic establishment until she sold the business in 2015.
Pretty much everything Cathy does is associated with food. In 2009 she co-founded a non-profit called FEAST which now teaches gardening and cooking education to over 1500 kids in schools and afterschool programs in Asheville and Buncombe County. Her full time volunteer job is working with FEAST to envision and enable a community where kids eat vegetables every day regardless of income. In other volunteer work Cathy has served on boards of directors like Bountiful Cities, Slow Food Asheville, Carolina Ground, Haywood Road Market Co-op, and AB Tech Culinary Advisory Committee.
Enjoy this one-hour Living Well where Cathy shares about the many benefits of FEAST and about the upcoming fundraiser, the 7th Annual Feasting for FEAST at the Renaissance Hotel in downtown Asheville on September 13, 2017!
Living Well with Cathy Cleary on AshevilleFM, September 11, 2017